Have you had an infection before from a nail salon?  We have a solution!  Introducing our medical pedicure, available at Downtown Medi Pedi, in the concourse level of Sheraton hotel near York and Queen. Set within a medical foot clinic, our trained nail technicians use sterilized equipment, waterless soaks, and organic nail polish.
The difference with our cleaning technique is that we use medical grade sterilization processes, which include using the same machine hospitals use to steam clean their instruments, for surgery. Almost all nail salons, except those set within a medical facility, will either wipe down their instruments with rubbing alcohol or use an ultrasonic cleaner which does not 100% clean everything off. Rest assured, you will receive a safe and hygienic treatment for your feet.
Relax in one of our massage chairs as we pamper your feet. We are specialist supervised and trained to watch out for certain infections such as fungal nails, ingrown nails and warts among other issues.
Our preferred choice of nail polish is a 100% vegan polish, and also enriched with organic ingredients which work to maintain and promote optimal nail health.
For appointments, please call 416-363-0477 or visit downtownmedipedi.com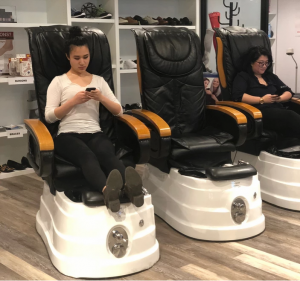 *Treatment by our nail technicians may not be covered by most insurance plans.